We originate value and contribute to society through "human harmony, technology synthesis and integrity between human and technology".
Our corporate logo is formed by the multifacetedly assembled triangles which are the source of power and implicitly reflects our strong desire, as a whole company, to gather our own power and to originate new value as comprehensive power which we will share with the society and circulate among people.
We will continue to integrate human and technologies in order to contribute to build a society where customers will confidently invest in projects. It is our strong commitment to diligently dedicate to every business scene at our best efforts.
Tatsunori Otani, President & CEO
Message from the President & CEO
AQA Inc. was founded in 1998 as a consultant firm fully dedicated to Project Management (PM) and Construction Management (CM) services, since then we have been a leader in the building consultancy business and pursuing to contribute to healthy growth of the Japanese construction industry.
Further, as we have overcome the era of domestic economic slump and business restructuring due to the bubble economy collapse and the Lehman crisis, our consistent presence and contribution to the society supported by over 1,500 project experience have been highly recognized and valued among our customers. Again, we really thank our loyal customers and business partners for our long-term relationships and solid confidence in our professionalism.
It is our code of conduct for entire organization that we pursue the goal to become strong driver with our rich experience, broad expertise and highly recognized technical skills to encourage our customers to manage the project pursuant to their business plan and compliance with "quality", "delivery" and "financials" standards while securing objective perspective and neutral positioning along with hands-on customer care. Our customers' repeat rate at over 95% will well represent not only our excellent technical capabilities and robust execution ability but also our honest and sincere personality, and furthermore, our spirit of "everybody wins" which is a driving force to encourage morale towards common goals by harmonizing teamwork among our business partners.
Our ultimate strength is supported by our data volume accumulated by our rich work experience and our data quality which we source from the real market price through our day-to-day operation and ongoing fresh deals with our business partners. We will continue to further strengthen our "data management capabilities" to serve our customers with the updated fresh data required for their decision making.
Tatsunori Otani,
President & CEO
OUTLINE
Corporate name

AQA Inc.
Date of foundation

February 27, 1998
Corporate address

[Tokyo Headquarters]

Sumitomo Shoji Mitoshiro Building 9F,
Kanda-mitoshirocho 1, Chiyoda-ku,
Tokyo 101-0053
Phone +81(0)3 6811 7165 /
Fax +81(0)3 6811 7175

[Osaka Branch]

Shibata Tokyu Building 6F,
1-7-8 Nishihonmachi, Nishi-ku, Osaka-shi,
Osaka 550-0005
Phone +81(0)6 4390 4340 /
Fax +81(0)6 4390 4350
Management team

President & CEO

Tatsunori Otani

Managing Officer

Norihiro Sagara

Executive Officer

Masanori Suzuki (Treasury and Finance Div.)

Executive Officer

Shinichi Kawasaki (Sales Div.)

Senior Executive Officer

Ryuichi Terada (Corporate Planning and PMO)

Executive Officer

Jiro Sato (Management Div.1)

Executive Officer

Toshiyuki Suekuni (Management Div.2)
Employees

41 (101 including affiliates)
[as of March 2021]
Licenses

First-class architect office, Tokyo Metropolitan Governor Registration No.57263
Construction Management Association of Japan
Affiliates

AQA Renovation Management Co., Ltd.
Associates Co., Ltd.
ORGANIZATION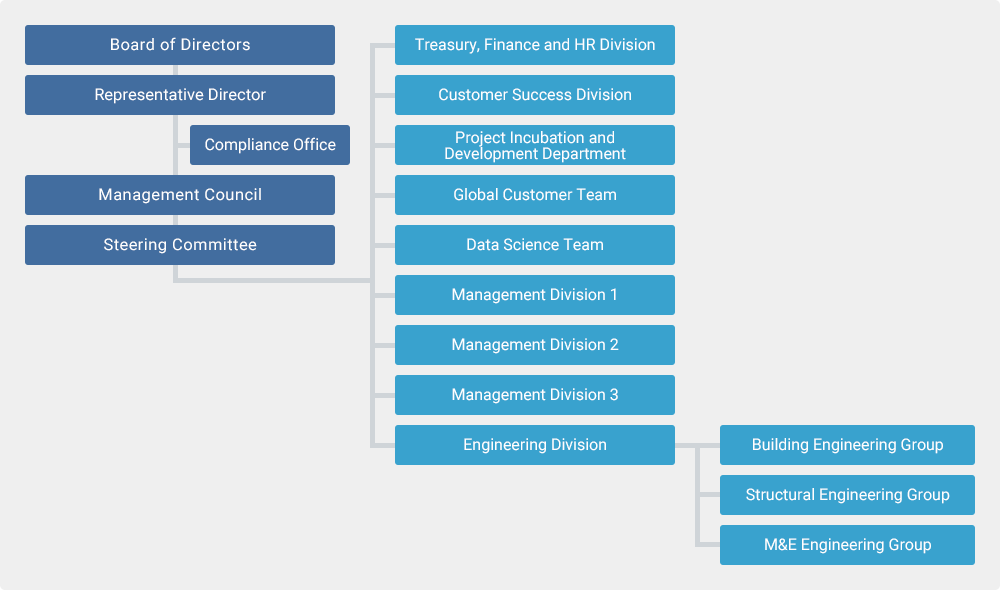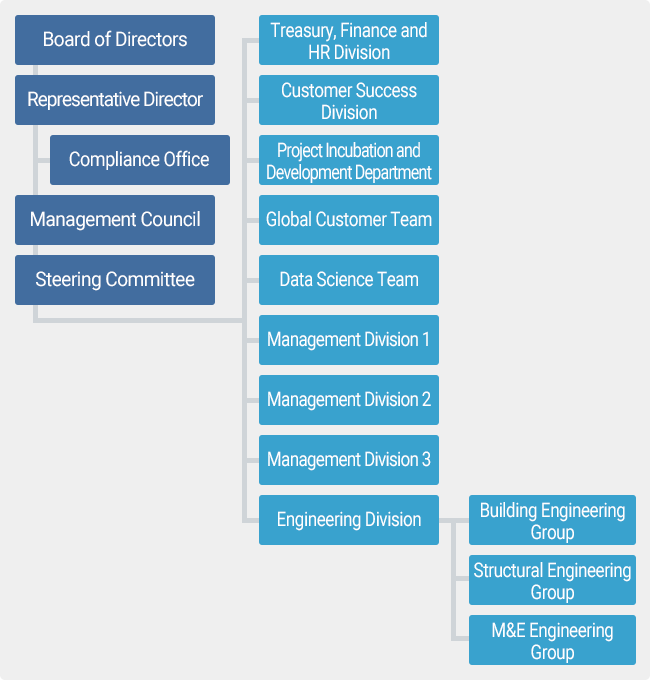 ACCESS
[Tokyo Headquarters]
Sumitomo Shoji Mitoshiro Building 9F, Kanda-mitoshirocho 1, Chiyoda-ku,
Tokyo 101-0053
Phone +81(0)3 6811 7165 / Fax +81(0)3 6811 7175
Access by train
8-minute walk from Kanda Station on JR Lines
2-minute walk from Exit B6 at Ogawacho Station on Toei Shinjuku Line
3-minute walk from Exit B3 at Shin-ochanomizu Station on Tokyo Metro Chiyoda Line
5-minute walk from Exit A4 at Awajicho Station on Tokyo Metro Marunouchi Station
7-minute walk from Exit #4 at Kanda Station on Tokyo Metro Ginza Line
[Osaka Branch]
Shibata Tokyu Building 6F, 1-7-8 Nishihonmachi, Nishi-ku, Osaka-shi,
Osaka 550-0005
Phone +81(0)6 4390 4340 / Fax +81(0)6 4390 4350
Access by train
1-minute walk from Exit #27 at "Honmachi Station" on Osaka Metro Yotsubashi Line